Main content starts here, tab to start navigating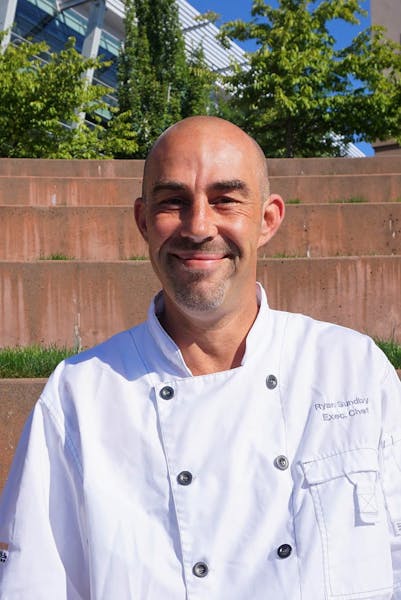 Ryan Sundby
Executive Chef
Ryan Sundby is a self-taught chef, following his love of food and cooking from the front of house to the back of house. He got his feet wet at the Bohemian Club in San Francisco in 2004 where he created everything from delicious fine dining menus, to boxed lunches for hundreds.
From there he traveled the NASCAR circuit, setting up off-site kitchens for 24,000+ fans– as well as private VIP corporate functions and staff meals.
Continuing to build his catering skills, he joined the Special Events team at Aquarium of the Pacific in 2009, catering for organizations and luminaries such as TEDx, Maria Shriver's THE WOMEN'S CONFERENCE and the Toyota Grand Prix of Long Beach –serving 1800 guests.
Returning to Washington State, Ryan became the Head Chef of Your Local Market until they closed, moving to Woodmark Hotel & Spa in Kirkland and high-end catering at the prestigious Rainier Club, in downtown Seattle.
At Gourmondo, Ryan expanded his culinary artistry offering brunch, lunch & dinner buffets, plus full service event catering to greater Seattle and the Eastside, creating customized menus as well as managing Gourmondo's many cafes within the Amazon's downtown campus, growing them from 2 to 11 cafes throughout Seattle, while enhancing menu offerings to Amazon's many employees.
Ryan recently moved from Seattle to Tacoma and looks forward to putting his creative stamp on Pacific Grill Events & Catering. His philosophy is to feature the abundance of seasonal items from the Pacific Northwest with locally-sourced products whenever possible. Chef Ryan's goal is to bring his honed craftsmanship and the dedication of a professional to our award-winning catering. "With his rich experience in 5-star hotels, sports arenas, fine dining and catering, we are looking forward to his delicious creations and so will you!" says Gordon Naccarato.