Main content starts here, tab to start navigating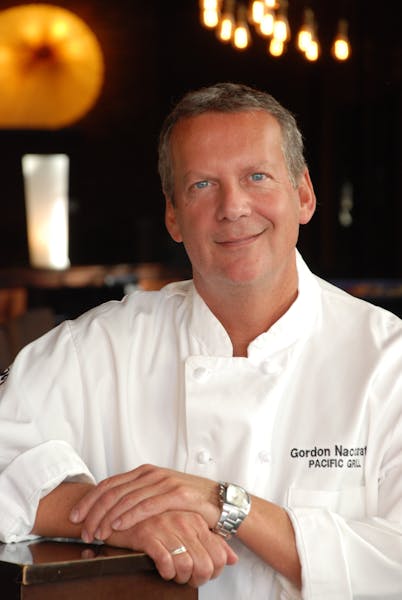 Gordon Naccarato
Chef / Owner
Gordon Naccarato is a partner in the Naccarato Restaurant Group. He acts as Executive Chef and Vice President of the corporation and oversees all food operations and the hiring, training, and management of the kitchen staff. Born and raised in Tacoma, WA, Gordon moved to Los Angeles after graduating "cum laude" from the University of Washington, to attend Loyola Law School.
Gordon has a 30+ year career as an Executive Chef and restaurant owner. During his restaurant career he has worked with some of the most talented chefs across the country, in restaurants in Los Angeles, Aspen, Miami, and New York City. For many years his restaurant, GORDON'S, in Aspen, Colorado, was considered the "Best Place to eat Between the Coasts." (NY TIMES)
Co-owned by Television Executive and Movie Director, Bruce Paltrow, and Tony Award winning Actress and two time Emmy Award Winning Actress Blythe Danner (parents of Academy Award-winning actress Gwyneth Paltrow), the restaurant was so popular with the jet-set crowd that they were often times booked a year in advance. The New Year's Eve party was so filled with celebrities that they had to black-out the windows to prevent the paparazzi from taking pictures of the stars inside: such as Jack Nicholson, Yoko Ono, Barbra Streisand, Goldie Hawn, Cher, Elizabeth Taylor, Arnold Schwarzenegger, and so on…
Gordon has cooked for sitting Supreme Court Justices of the United States, and was honored to cook for Robert Kennedy's widow Ethel Kennedy. He cooked many vegetarian meals on request for Michael Jackson, and cooked for Neil Diamond's annual Labor Day Party, at the singer's beach house in Malibu Colony 5 years in a row. He has also cooked for titans in the business and publishing world such as Billionaire Rupert Murdoch, and Donald and Ivana Trump.
After Gordon left Aspen, he became chef at the infamous Monkey Bar in Los Angeles, owned by Jack Nicholson and Eagles Drummer Don Henley. The "global menu is the star of this remarkable hang out" (Ruth Reichl GOURMET MAGAZINE) and "Gordon's 'Lobster Tacos' and '3-Alarm Risotto' are as famous as the celebrities that pack the place." (LOS ANGELES TIMES); "Gordon is a genius in the kitchen" (LOS ANGELES MAGAZINE).
Gordon's recipes appear in countless books and magazines from around the world. He appears in the PBS series THE GREAT CHEFS OF THE WEST, preparing several of his signature specialties.
Gordon's Food Blog was recently mentioned by Food & Wine Magazine as one of the Best New Chef Food Blogs in the Country.
Gordon's many honors in the food industry include:
"10 BEST NEW AMERICAN CHEFS OF THE YEAR," Food & Wine Magazine
"TRAVEL HOLIDAY AWARD," Great Chefs of Los Angeles
"Best Chefs of Los Angeles," by City of Los Angeles Mayoral Proclamation
"Best Seafood Menu in the United States," Seafood Leader Magazine
"Chef Stars 1987," Rockefeller Center Tribute, New York City
"Top 20 Most Talented People in Seattle," Seattle Magazine