Main content starts here, tab to start navigating
Museum of Glass
From its iconic architecture to the views of Mount Rainier, Museum of Glass is truly an extraordinary venue. Located on the Thea Foss Waterway in downtown Tacoma, the Museum offers multiple spaces, both indoor and outdoor, as well as private access to the Museum's galleries, creating an ideal setting for an unforgettable event.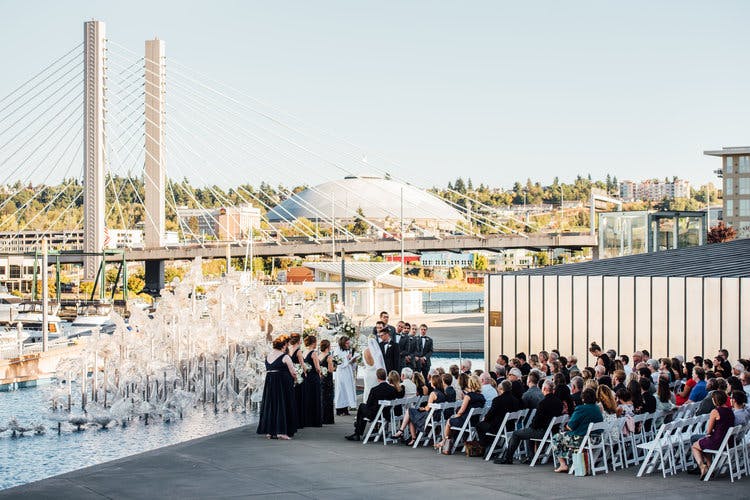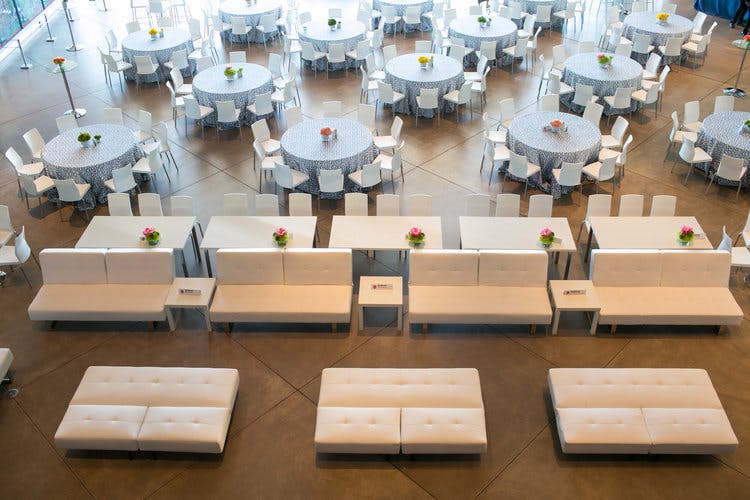 THE GRAND HALL
The Grand Hall is an impressive 6,900 square-foot space, perfect for receptions, formal dinners, or contemporary art programs and has ample space for dancing and musical entertainment. Northwest artist Cappy Thompson's stunning glass triptych, Gathering the Light, a mythical interpretation of a glass-making world, is installed in the Grand Hall, offering an artistic backdrop for your event.
Capacity: 300 seated at rounds; 500 standing
THE PLAZAS
The Main, Mezzanine, and Rooftop Plazas all offer stunning views of the cityscape, Thea Foss Waterway, and Mount Rainier. You'll find Martin Blank's Fluent Steps installation in the reflecting pool on the Main Plaza adjacent to the Museum's entrance. You and your guests will find it easy to circulate between any of these spaces to the interior of the Museum, as well as the neighboring Chihuly Bridge of Glass.
Main Plaza: 3,900 square feet
Mezzanine Plaza: 4,200 square feet
Rooftop Plaza: 5,400 square feet
Note: All events held outdoors at the Museum are required to abide by the City of Tacoma's noise ordinance laws, which require music and loud noise to cease by 11pm.
THE HOT SHOP
Inside the Museum's 90-foot tall cone is the Hot Shop Amphitheater, a working glass studio. The Hot Shop is the Museum's signature space and will take your event to the next level as your guests can watch artists create works from molten glass. Rental of the Hot Shop includes a team of glassblowers for the duration of the event.
Capacity: 138 seated; 200 standing
WANT TO GET HANDS-ON IN THE HOT SHOP?
Ask about our exclusive hands-on experiences available to small groups. You'll have the opportunity to work with a team of professional artists, feel the heat of the furnaces, and create your own artwork from molten glass.
THE THEATER
The Museum's Theater is equipped with a stage, Wi-Fi, and a large projection screen. With a generous capacity, this space has all you need for presentations and meetings.
Capacity: 177 seated